Mangos are similar to many large fruit trees in that they typically only bear fruit once a year. This year, our mango trees on the farm that produced beautifully during our summer have given us a little fall crop. Our CSA recipients received a few of this extra crop of mangos in their boxes this past Saturday. 
Originally from India, mangos are plentiful throughout the Caribbean. There are several different varieties growing on Tortola. The trees that have produced the second crop on the farm are our oldest trees. They were on the land when we moved on. Aragorn suspects that these trees are at least 70 years old.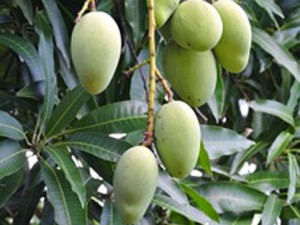 The mangos our CSA recipients received should be eaten when they are still green and just turning yellow. They are perfect for adding into food (fruit salad, lettuce wraps, smoothies) or making into a jam or chutney.  We hope to have more for you this weekend!
How did you enjoy your CSA mangos?