Some of our regular clients may have realized that we added a few new items to our order form this year (check it out here).
The non-edible category of Flowers may have had a few of you wondering why a farm focused on organic produce would start selling flowers. The answer?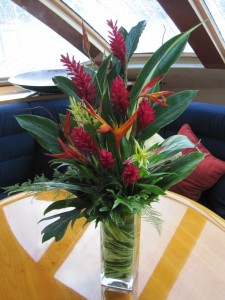 We have them! The borders of Good Moon Farm are made up of several varieties of heliconia flowers, including ginger and lobster claws.
A happy flower customer sent us these photographs of the arrangements they created from our flowers on their boat. A gorgeous touch!